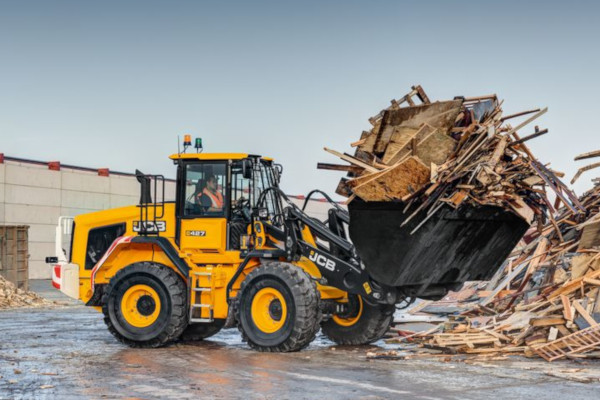 Double tap to zoom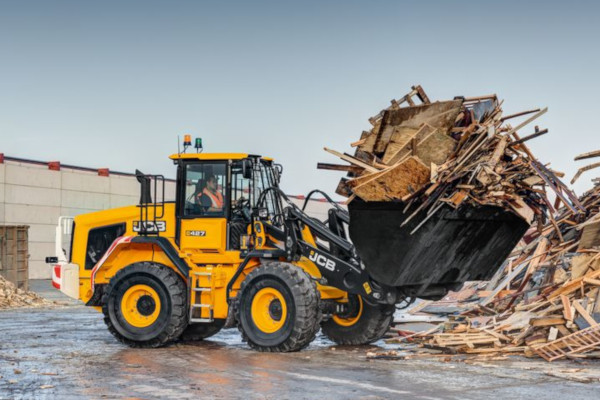 Features
Features
Heavy duty articulation joint and well-positioned steering rams
T4i/Stage 3 b 6.7 liter engine producing 158 hp and 801Nm
Optional 5-speed transmission with torque converter lock-up
Eco mode reduces fuel consumption yet retains productivity
All-day-comfortable operator environment and JCB Smoothride load suspension
Industry recognized components carefully selected for ultimate performance and reliability
A QUALITY PROCESS
Finite element analysis and rig testing give the JCB 427 superior structural strength and durability. Cold cell testing guarantees starting performance down to -20˚C.

We use state-of-the-art manufacturing processes like robot machining, precision paint technology and innovative assembly techniques to guarantee the very highest levels of quality for the JCB 427.

The articulation joint on a JCB 427 has a heavy-duty box section – stronger than a single plate with boss. For added protection, the 427's steering rams are high up, and its hoses are routed neatly through the articulation joint.

There's a heavy-duty center pin and over sized bush on the JCB 427's articulation joint for even more durability, as well as twin taper roller bearings that can tolerate both vertical and horizontal loading.

The rear counterweight and cast quarter pillars protect the 427's cooling pack and the back end of the machine from damage.
COMFORTABLY SUPERIOR
A tilting and telescopic steering column on the JCB 427, plus a comprehensive range of loader controls (multi-lever, joystick, or joystick with proportional auxiliary) means the 427 operator is always comfortable to operate – and therefore productive.

There's a stylish, modern central dash display which provides machine health details, service requirements, operating information and more.

The 427 has air conditioning and automatic climate control options to create perfect working temperatures– as well as a range of seat options.

The selectable loader arm detents mean operators can set loader arm height limitations, and return to dig and float functions for improved safety and productivity. 

 JCB Smoothride load suspension limits shock loading on the 427, and therefore reduces material spillage and structural stress, as well as increasing operator comfort.

A 3-piece laminated front windshield, interior mirrors, heated exterior mirrors, an optional reverse camera and a sloping rear hood give the JCB 427 excellent all-around visibility. 
DRIVE SAFELY
The optional rear-view camera displays an unobstructed rear view on the JCB 427's in-cab color monitor.

Inclined, equally spaced access steps, together with well-positioned grab handles, make for safe access to a JCB 427.

The JCB 427 has superb all-around visibility, courtesy of interior mirrors, heated exterior mirrors and hood mirrors.

Non-slip walkways and additional grab handle options make operators safe when climbing onto the JCB 427.

The JCB 427 cab is isolator-mounted, compliant with ROPS/FOPS standards, and positively pressurized against dust. You can choose from fresh air, carbon and P3 – HEPA re-circulation filters as well.
EFFICIENT BY DESIGN
The optional torque lock-up 5-speed transmission means the JCB 427 can achieve 100% efficiency through the transmission in 2nd to 5th gears for improved performance and fuel consumption. Closer gear ratios mean lower engine speeds in each gear.

The JCB 427's Automatic Idle feature returns the engine to 700rpm after 30 seconds of inactivity, while Eco mode limits engine speed to 1,800rpm for reduced fuel consumption. 

Either way, productivity remains formidable.
Wheel speed braking means the 427's brakes rotate at the same speed as the wheels for heat and drag reduction, as well as improved fuel economy.

The JCB 427's hydraulic cooling fan automatically reacts to ambient temperature and adjusts the fan speed to optimize cooling, reduce fuel consumption and lower noise levels.

Unloaded spool valves in the valve block means that arms lower under gravitational, not hydraulic force, reducing fuel consumption.
LOW MAINTENANCE LONG INTERVALS
Gain easy access to the JCB 427's engine bay and large single-faced cooling pack with wide-opening gullwing doors. Daily checks and grease points can be accessed from ground level.

An electronic monitoring system relays machine conditions, giving real time alerts. This safeguards both the machine and operator.

Because it uses premium components like a Cummins engine, ZF transmissions and axles, Rexroth pumps, and Parker valve blocks, the JCB 427 has a long service life built in.

Full hydraulic dual circuit braking with multiple oil-immersed disks give the 427's braking system a virtually maintenance-free lifespan.

Group test ports mean you can check the braking, steering and hydraulic system pressures easily on a JCB 427. 
Specifications
Maximum Engine Power
179 hp
133 kW
Operating Weight
30,000 lbs
13,607 kg
Standard Bucket Capacity
3.1 y3
2.3 m3
20.5R25 L3 radial tires
JCB CommandPlus cab with seat-mounted controls, heater and A/C
Back-up camera with operator help screens
Set-and-forget steering column, front roller blind and speakers
Electric, adjustable and heated side mirrors
Air-ride, high-back seat
100% auto locking front differential with torque proportioning rear
Z-bar loader end
3-spool servo hydraulics
Quick coupler ready
JCB Smoothride System (SRS)
Wide-core cooling pack
Rear belly guards
Electric steering back-up pump
Electric park brake
Block heater
Auto reversing fan, programmable in cab
NEED A QUOTE?
Let us help you get moving.