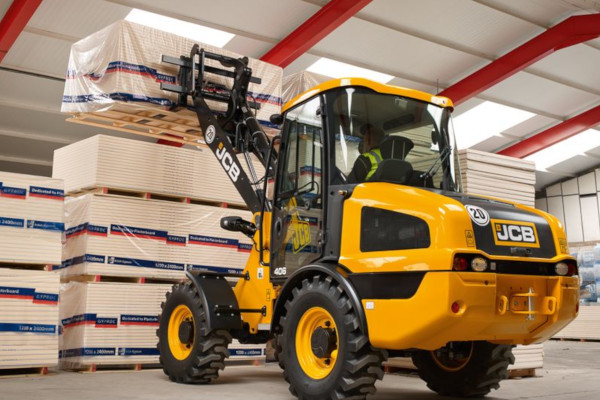 Double tap to zoom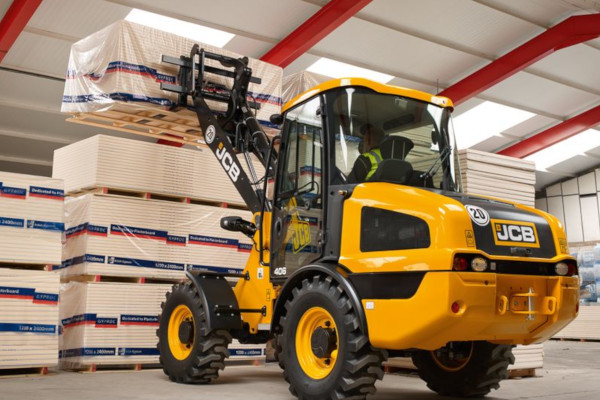 Features
Features
Stage IIIB/ Tier 4i-compliant JCB Diesel by Kohler engine
48 kW of power and 300 Nm of torque
Hydrostatic drive for easy operation
Great all-round visibility and superb operator comfort
Heavy-duty versatile articulated steering system with sideshift
Easy to service and extremely safe to operate
COMFORT AND EASE OF USE
The JCB 407 wheel loader has a comfortable and spacious cab with noise levels lower than our outgoing model. The operating position is designed for optimum all-around visibility, unhindered by components like silencers.

Our tilting telescopic steering column is easy to adjust, and all instruments needed to operate this wheel loader are within easy reach of the seat, so there's no need to hunt around for information while working.

With a fully opening right-hand window, JCB 407 operators can enjoy increased ventilation while still being protected from dust.

This compact wheel loader is equipped with a new ergonomically designed joystick control system for comfortable and intuitive operation.
DRIVELINE PERFORMANCE
JCB and Kohler have produced the ultimate compact wheel loader engine for the 407. It's Tier 4 Final engine provide high torque at low review for excellent fuel economy. Dimensions are compact for a tight turn radius.

A variable speed engine crank-driven cooling fan maintains optimum fan speed for all requirements without using any excess engine power.

The 407 wheel loader has a new high speed option – this provides a 30 km/h top speed. Power is transferred to the ground efficiently through an innovative chassis, with perfect harmony between all components.

We offer several axle options on the JCB 407 including open diffs for hard ground and limited slip diffs for soft muddy terrain.

Our 100% switchable front axle diff lock option provides ultimate traction on mud and creates no shear forces, so won't damage the ground when it's not in use. It can also be engaged on the move and under load.

Hydrostatic drive makes the 407 wheel loader very easy to operate even for the inexperienced. That means there's less risk of overpowering the machine at a cost to fuel economy. 
QUALITY, RELIABILITY AND DURABILITY
We've used only the very finest engine, drive-line and axle components on the 407 wheel loader, from suppliers like DANA and Bosch.

This loading heel loader benefits from a strong chassis and the best possible weight distribution; this allows for optimal absorption of external forces.

We understand how tough materials handling can be, so we use a heavy-duty center joint which oscillates through ±40°. Precision machining provides high tolerances and accurate location of pins and bushes on these wheel loaders.

Rear lights are recessed within the solid counterweight casting for impact protection and hydraulic hoses are neatly routed, properly clamped, and positioned away from potential pinching spots.

We use state-of-the-art manufacturing processes, finite element analysis and extensive rig testing to achieve the very highest levels of quality. Cold cell testing guarantees starting performance at temperatures as low as -20°C.
SAFETY AND SECURITY
The JCB 407 wheel loader can be equipped with a new immobilizer option, which can help prevent thefts from your fleet.

Access steps are complemented by well positioned handles so that operators have three points of contact whenever they're entering or exiting the JCB 407's cab.

With no exhaust after treatment, our JCB Diesel by Kohler engines are extremely compact for uncompromised visibility. The sloping rear hood provides an unimpeded view, with the exhaust silencer and air intake filter both packaged out of sight.

We've fitt an in-cab electronic 2-stage quick-hitch isolation system to prevent uncontrolled release of attachments on the 407 wheel loader.
SERVICEABILITY
Most T4F engines use a Diesel Particulate Filter (DPF) or SCR, requiring costly DEF fluid level maintenance or heat-resistant lube oils.  The new Kohler engine designed by JCB doesn't, thus reducing service and run costs.

Operators and managers of the JCB 407 wheel loader can access vital information like machine running times and error alerts at the touch of a button on the in-cab display and if needed via JCB's LiveLink telematics system.

The JCB 407 has a cyclonic pre-filter which maximizes air filtration and extends filter element service intervals significantly.

A large single piece hood provides quick and convenient access to all daily check points, as well as the engine bay and cooling pack of your wheel loader.

Your local JCB dealer will be able to supply all parts for your 407 wheel loader, including JCB Diesel by Kohler engine components. This model also shares parts with other JCB machinery, making everything even more readily available.

A stylish, modern central dash display combines analogue dials and a color LCD screen – this can display machine health details, service requirements, operating information and more.
Specifications
Standard Bucket Capacity: 1.0 yd3 (0.8m³)
Operating Weight: 11,162 lb (5,063 kg)
Full cab with heater, A/C and 365/70 R18 Dunlop SPT9 tires, or canopy with 12.5 x 18 Camso tires
Tool carrier parallel lift loader arm geometry
Standard front axle with LSD rear
3-spool manual hydraulics
Skid steer hitch with auxiliary hydraulics
Front and rear work lights
NEED A QUOTE?
Let us help you get moving.