Get A Quote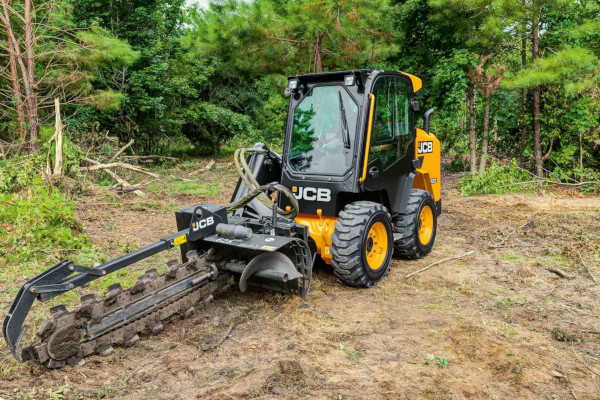 Double tap to zoom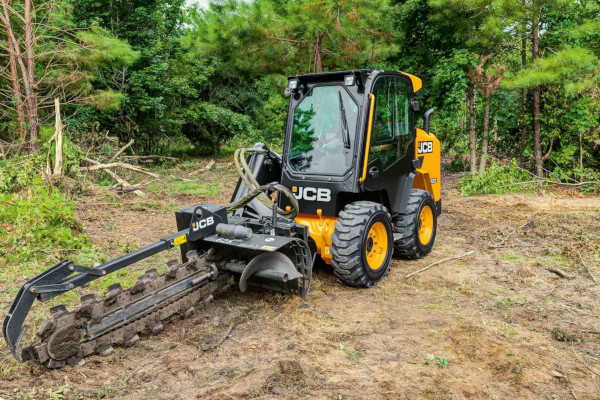 Skid Steer Loaders JCB 300
The large-platform, Hi-Viz, JCB 300 skid steer loader provides the operator with excellent visibility to the attachment. With a rated operating capacity of 3,186 lb (1,445 kg), this vertical lift machine is ideal for applications that require heavy, high-flow attachments for clearing material, mulching and agricultural tasks.
Features
JCB's single-boom design with side-entry for industry-leading safety
60 percent better visibility, up to 46 percent larger cab than the competition
Vertical lift configuration
Clear and intuitive loader controls and cab layout
Durable construction for reduced downtime, with tilting cab for easy servicing
PRODUCTIVITY
There's not a more productive skid steer loader than the JCB 300. The figures speak for themselves. It has a 16% lower total cost of ownership than competitive models, a better SAE service rating, an annual fuel savings of over 1050 gal (3975 liters)* and a heavy-duty crowd ram that's nearly 3 times the size of its closest competitor.
There's a standard mechanical quickhitch and auxiliary couplers on the PowerBoom too. In short, it's as productive as a skid steer loader gets.
 * – based on 50 weeks per year and 35 hours per week.
OPERATOR COMFORT
Keeping your operators fresh, focused and productive is paramount, which is why we've designed our 300 model skid steer loader with a 33% larger cab than its nearest competitive model. Our standard seat has mechanical suspension, a 12V charger, easily readable control panels and an electronic hand throttle.
Servo-assisted controls make handling smooth and intuitive; all-in-all, we like to think the JCB 300 skid steer loader is a favorite for comfort among operators.
SERVICEABILITY
We've designed our range of skid steer loaders to be easily serviced, ensuring minimum downtime.  Our engines are mounted longitudinally for easy access to the drive belt and associated components. There are also 30% fewer grease points than the average vertical lift twin arm skid steer.
We've installed front and rear chassis clean out plates, with a fluid drain point in the rear one, as well as durable O-ring face seals on all hydraulic fittings. There's excellent service access through the rear service door and a gas strut-assisted tilting radiator.
Our large platform skid steer loaders are on average 24% more serviceable than competitive models, based on SAE Service Audit Scores. And there's more too.
Specifications
Quick Specs
 
Lift Path
Vertical
Net Engine Power
74 hp
55 kW
Operating Capacity
3,000 lbs
1,361 kg
Operating Weight
9,054 lbs
4,107 kg
Iconic JCB Powerboom™ loader arm with lower profile for improved visibility and tapered pins for superior rigidity
Side-door entry for superior safety
Efficient 74 hp (55 kW) JCB EcoMAX T4F engine that requires no exhaust after-treatment
24 gpm (90 lpm) standard hydraulic circuit; optional 33 gpm (125 lpm) auxiliary high-flow circuit
60 percent better visibility and up to 33 percent larger cab than competitors
Industry-leading ergonomics
Tilting cab for easy servicing and reduced downtime
The new centralized tilt cylinder gives better breakout force and improved visibility to the attachment
Got A Question?
Let us help you get moving.
NEED A QUOTE?
Let us help you get moving.