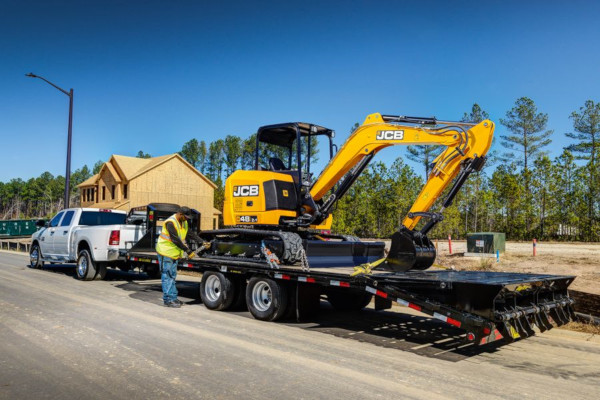 Double tap to zoom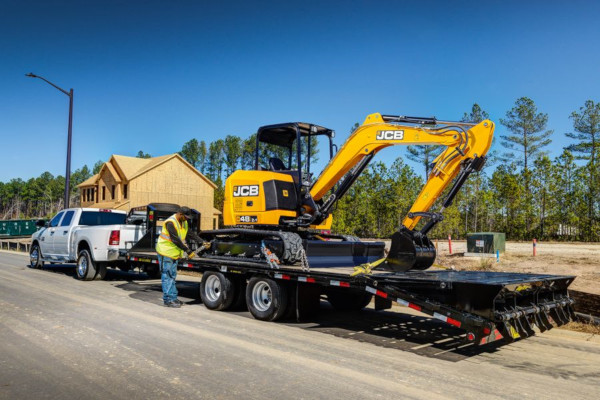 Features
NEW GENERATION CONTROL
The new JCB 48Z-1 compact excavator has an even more spacious cab than before, with storage galore, a phone tray, stowage net and a cup holder. The whole area is accessed easily and safely via a large door.
There's a radio, 12V phone charger and powerful heater with window de-mister. A high performing air conditioning system* with 8 vents completes the picture.
JCB compact excavator boast an innovative new rotary controller and easy touch switches have been specially designed for easy operation. With ergonomic electro-hydraulic dozer control as standard, operators can achieve smooth and precise grading control.
You can alternate quickly between single and double-acting auxiliary flow thanks to a convenient switch in the cab.
A key benefit of the Livelink and immobilizer combination is the remote pin code management system, which allows you to remotely authorize or deny the usage of the machine. Up to 14 individual pin codes can be programmed into the system, offering the option to customize operator preferences by embedding a separate auxiliary mode in each code.
You can easily adjust and program flow settings for specific attachments, with a built in memory to store your settings so that they can be easily retrieved between jobs. Information such as service and machine diagnostics help the operator to keep on top of the status of the machine. Alerts and service interval countdowns will keep you up to date, and always one step ahead of the possibility of downtime.
Live readings of fuel consumption give the operator an idea as to how the machine is performing at any stage of application.
NEW GENERATION EFFICIENCY
Because damage sometimes happens on sites, we use flat glass windows throughout the new JCB 48Z-1 compact excavator, as well as 100% steel bodywork, minimizing possible replacement costs.

With our class-leading greasing intervals of 500 hours, you can expect minimal downtime. Better still, our new monitor provides alerts on your excavator's diagnostic status.

Engine revs reduce when the operator's armrest is raised, improving fuel economy and noise levels. There's a One-Touch Idle feature that conserves fuel too. Programmable auto idle, meanwhile, can be activated when the controls have been inactive for a period.

Control your 48Z-1 compact excavator's engine speed for different hydraulic flows by simply cycling through four different power bands: Light, Eco, Heavy and Heavy Plus. This means you can tailor performance to any application.
The patented low-pressure return line circuit further improves fuel efficiency because the pump doesn't need to overcome a very high pressure before work can start.
 Load-sensing hydraulics are standard-fit on this mini digger. This innovative feature means that your hydraulics only consume power on demand, conserving fuel for when you need it most.
NEW GENERATION PERFORMANCE
The zero tail-swing JCB 48Z-1 compact excavator is incredibly maneuverable even in the most confined spaces because there's no rear overhang outside the footprint of the tracks, boasting a Tier 4 Final no DPF engine.

Tracking performance is smooth and precise, ensuring high dozer capabilities and fast travel times. To increase productivity, our auto kick-down motors automatically adapt to changes in terrain, increasing productivity and reducing operator fatigue.

An overload screen displays a bar chart from green to red, indicating whether the overload point is close or exceeded. Once the limit is passed, the buzzer sounds and the bar flashes to warn the operator.

The programmable twin auxiliary lines provide high and optional low hydraulic flows to operate an array of attachments, increasing your compact excavator's versatility. Both auxiliary lines are electrically proportionally controlled and fully adjustable for optimum attachment control.
NEW GENERATION SAFETY
The new JCB 48Z-1 mini excavator cab is fully ROPS and TOPS compliant. For even more protection to both cab and operator, opt for impact protection glass on your new machine.
Standard boom and optional work-light guards offer great protection for vulnerable components in hazardous applications. JCB's Safety Lever Lock fully isolates this compact excavators hydraulic functions to prevent unintended movement.
Our unique 2GO system ensures your compact excavator hydraulics can only be operated in a safe lockable position via two separate inputs.
An overload screen displays a bar chart from green to red, indicating whether the overload point is close or exceeded. Once the limit is passed, the buzzer sounds and the bar flashes to warn the operator.
A large track frame width and low center of gravity helps the JCB 48Z-1 to offer amazing stability.
This powerful JCB compact excavator offers greater visibility than our outgoing JCB 8045, ensuring easier, safer trench digging and maneuvering. This is thanks in part to a 70/30 front screen split.
NEW GENERATION SERVICEABILITY
All dig end and dozer greasing intervals on a JCB 48Z-1 compact excavator are best-in-class at 500 hours, thanks to graphite impregnated bronze bushes; needless to say, this saves you time and money.
An open frame undercarriage with sloping track legs makes cleaning easier.
There are no plastic external body panels on the JCB 48Z-1; instead there's 100% high strength pressed steel bodywork.
Color-coded hydraulic hoses make for easy identification, while dozer hoses are simple to replace because they terminate at the bulkhead.
The wide-opening steel bonnet and external fuel indicator make it easy to fill this compact excavator's tank from ground level. Opt for a refueling pump with auto stop function to reduce spillages and increase safety.
Remove two bolts to lift out your excavator's entire cab floor, giving you full access to the main control valve spools, hydraulic connections, and many other components for inspection or replacement.
Specifications
Operating Weight: 10,564 lb (4,792 kg)
Maximum Dig Depth: 11'11" (3.53 m)
Maximum Dump Height: 13'1" (4 m)
Most Popular Configuration
Cab with A/C
16-inch rubber tracks
ISO/SAE controls
Fabric suspension seat (high back)
4-foot 7-inch dipper
4-way dozer blade
Dozer float
Halogen worklights
High- and low-flow double-acting auxiliary hydraulics
Bushed kingpost
Full radio kit
Thumb-ready dipper
NEED A QUOTE?
Let us help you get moving.