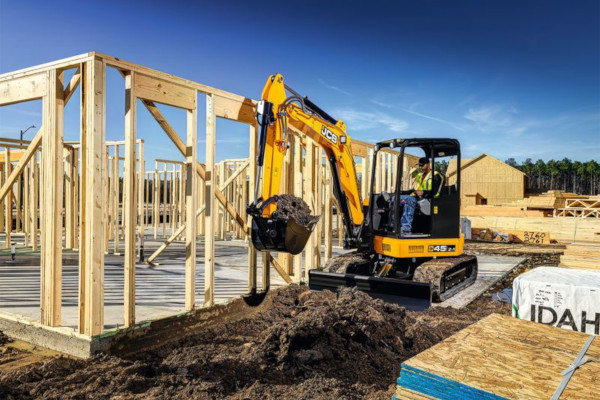 Double tap to zoom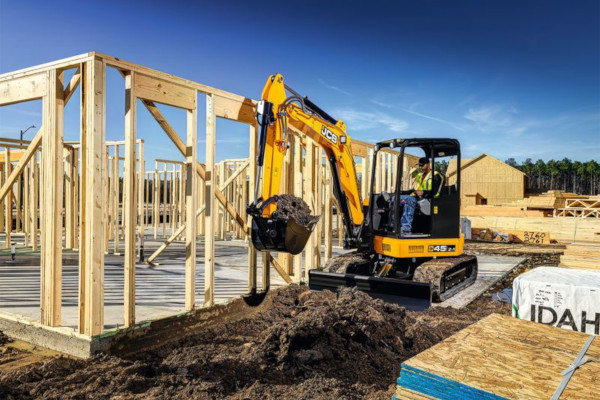 Features
Durable Performance
The 45Z-1 shares the durable design proven on the larger machines in JCB's next-generation compact excavator range, with 100 percent steel bodywork and sturdy four-plate dipper construction.
The dig end uses 100 percent graphite-impregnated bushings, leading to extended 500-hour greasing intervals.
Revised bucket pin pick-up points allow the machine to work with a number of competitive bucket brands, while optional hydraulic or manual quick hitches can be specified for faster attachment changeover.
The 45Z-1 compact excavator features a new dig end, with a longer main boom and shorter dipper arm than the previous 8045 ZTS, to provide a dump height of 13 feet 1 inch (4 m), for easier truck and site dumper loading. The upgraded hydraulic system also delivers up to 8,542 lb (38 kN) bucket breakout force and dipper breakout of 4,945 lb (22 kN), boosting performance and productivity.
Easy Servicing
Graphite-impregnated bronze bushes on the dig end allow the JCB 45Z-1 compact excavator to offer best-in-class 500-hour greasing intervals.
An open frame undercarriage, with sloping track legs, makes cleaning easier.
Color-coded hydraulic hoses make for easy identification, and the dozer hoses terminate at the bulkhead, making them easy to replace when needed.
The 45Z-1 is fueled from ground level via a wide-opening steel bonnet and external fuel indicator. An optional refueling pump with auto stop reduces spillages for improved safety.
The cab floor is easily removed, to inspect or replace the main control valve spools, hydraulic connections and other components.
Enhanced Safety
The powerful JCB 45Z-1 features a wide track frame and low center of gravity, for exceptional stability. Coupled with improved visibility over earlier models, and numerous other safety enhancements, the 45Z-1 provides easier and safer trench digging and maneuvering capabilities.
The JCB Safety Lever Lock fully isolates the hydraulic functions, to prevent unintended movement. Furthermore, the unique JCB 2GO system requires two separate inputs, to ensure the hydraulics can only be operated in a safe lockable position.
The optional Safe Lift feature, complete with an integral lift overload warning system, is an industry first in this class. Safe Lift incorporates a green-amber-red graphic in the monitor panel, with an audible warning that sounds if the machine approaches overload.
Improved Efficiency
With class-leading greasing intervals of 500 hours and machine diagnostic status reports delivered via the new, in-cab monitor, JCB excavators streamline maintenance requirements and reduce machine downtime.
Fuel consumption is minimized by several smart features. For example, engine speed is automatically reduced when the operator's armrest is raised. Additionally, a 'one-touch' idle feature, and programmable auto-idle, enable dramatic fuel reductions with minimal input necessary from the operator.
Four power bands—Light, Eco, Heavy, and Heavy Plus—allow the engine speed to be matched to the hydraulic flow requirements for the attachment and application at hand. A patented low-pressure return line circuit further improves fuel efficiency by eliminating the need to for the pump to overcome high pressure on start-up.
Load-sensing hydraulics are standard-fit equipment on the 45Z-1, limiting the consumption of power by the hydraulic system to when it is needed most.
Livelink
A key feature of JCB's LiveLink telematics system is the immobilizer with remote pin code management system, which allows a fleet manager to remotely authorize or deny usage of a machine. Up to 14 individual pin codes can be programmed into the system, allowing custom operator preferences to be programmed into the machine, and hydraulic flow settings for specific attachments can be set, adjusted and stored.
Machine service and diagnostics information, along with alerts and service interval countdowns, support efficient maintenance scheduling.
Specifications
Canopy
16-inch rubber tracks
ISO/SAE controls
Vinyl suspension seat (high back)
4-foot 7-inch dipper
Standard dozer blade
Dozer float
High- and low-flow, double-acting auxiliary hydraulics
Bushed kingpost
Thumb-ready dipper
NEED A QUOTE?
Let us help you get moving.