/ NOT AVAILABLE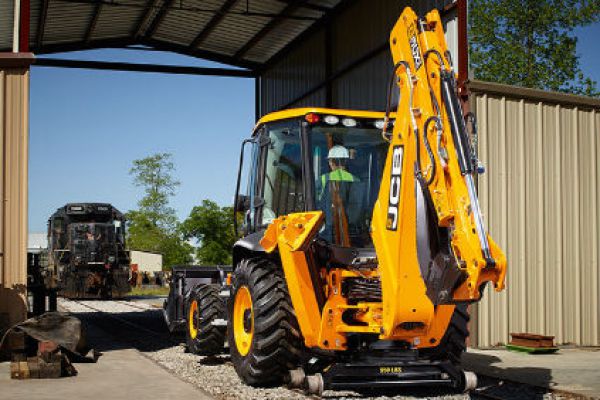 Double tap to zoom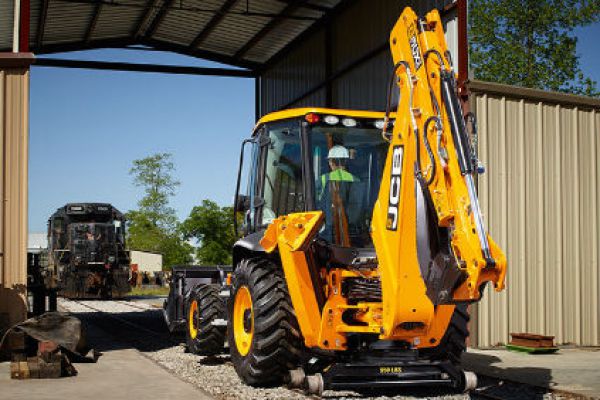 Features
A DRIVETRAIN WITHOUT COMPROMISE
JCB EcoMAX engines are designed and built by JCB, and tested for 110,000 hours in 70 different machines across the toughest applications and environments.
In addition to working perfectly with JCB axles and gearboxes, EcoMAX engines deliver as much as 109hp (81kW)* and 381lbf (516Nm)* of torque at speeds as low as1200 RPM, for fuel-efficient matching of the transmission and hydraulics.
JCB EcoMAX engines require no replaceable DPF (Diesel Particulate Filter), for easier and less costly servicing. And when it's time to upgrade to a newer machine, JCB EcoMAX engines can be adapted to run on lower-grade fuels so they can be sold in different territories for increased residual values.
The JCB TorqueLock system* enables savings of up to 25 percent on fuel and 10 percent on road travel time when matched with the JCB optional 6-speed Autoshift* transmission.
A limited-slip differential maximizes JCB backhoes traction and performance, as well as reduced tire wear.
The 3CX-15 SUPER backhoe loader is equipped with EcoROAD* technology, to reduce fuel consumption and increase machine by up to 10 percent. * - model dependent
A QUALITY WORKPLACE
JCB backhoe loaders are designed to minimize operator fatigue and enable greater productivity. The climate-controlled, positive-pressure cab is rubber-mounted and isolated for low noise and vibration.
The LCD panel in the cab of JCB backhoes are details machine hours, service information, fuel levels* and system warnings.
Ergonomic seat-mounted joystick controls* provide fingertip control, great comfort and the ability to face the side of the machine while using the excavator-end to the side of the machine.
A 360-degree view from the operator position within JCB backhoes enables enhanced comfort, productivity and safety. When excavating, an innovative one-piece, scoop-design rear windshield enables an unobstructed view into the trench.
For more comfort and less material spillage, the JCB backhoes feature automated Smoothride System* (AutoSRS). JCB backhoes are quiet, inside and out, with JCB EcoMAX engines being the quietest in the industry.
High back-off brakes reduce viscous drag during road travel and re-handling, for improved fuel economy and reduced operator fatigue.
A heated, air-suspension seat and heated front windshield are available options. * - model dependent
INNOVATIVE HYDRAULICS
JCB backhoe loaders feature a variable flow hydraulic pump that delivers high hydraulic flow and pressure at low engine speeds, for improved fuel economy, reduced carbon emissions, lower engine wear, and extended refueling intervals.
Combined hammer and bi-directional circuit* provides optimized low-flow and high-flow hydraulic power with low back pressure for great attachment versatility.
The optional hand-held tool circuit* adds to the versatility of JCB backhoe loaders by adding a power source for handheld tools, such as drills, breakers, cutters and even water pumps.
The 4-cylinder, self-leveling loader on JCB backhoe loaders automatically adjusts the bucket on both the raise and lower cycles, and provides unobstructed front bucket visibility, especially when loading at height.
JCB's hydraulic quick hitches* mean that changing an attachment on JCB backhoe loaders is quick and safe, and complies with current and future safety legislation. * - model dependent
LESS SERVICING, MORE SERVICE
Daily checks are performed automatically upon key-on by JCB's innovative AutoCHECK system. In less than three seconds, a JCB backhoe loader automatically reviews eight under-the-hood checkpoints and provides a green light to start working, or advises if attention is needed.
JCB EcoMAX engines require no replaceable DPF (Diesel Particulate Filter), which eliminates productivity-sapping regeneration and ensuring easier and less costly servicing and less downtime. Additionally, JCB EcoMAX engines rated at 74 hp (55 kW) and below require no diesel engine fluid (DEF).
For enhanced monitoring of efficiency, the multi-function instrument control panel in JCB backhoe loaders advises current and average fuel consumption*, and any applicable service faults.
JCB backhoes feature a rustproof fuel tank, to protects the fuel injection system, and a rustproof, composite cab floor with molded water channels for easy cleaning. * - model dependent
STRENGTH: WHY COMPROMISE?
The JCB backhoe loaders features a robot-welded, single-piece chassis for maximum strength and reduced weight. For rigidity and hose protection, the loader arms utilize a flat plate, D-pressing design. Additionally, the boom benefits from stress-relieved fabrication methods and heat treatment at 1202˚F (650˚C), to double the expected boom life. An inner-box extending dipper means less weight is extended and moved while excavating, for reduced stress on the machine and increased stability.
The heavyweight axles on JCB backhoes are designed on conjunction with the transmission for a 12,000-hour life. The rear axle has a static load rating of 55,116 lb (25,000 kg), and a dynamic load rating of 27,558 lb (12,500 kg).
Hydraulic hoses are approved to work at temperatures as low as -8°F (-40°C).
The pre-production testing regime for JCB backhoes has included 100,000 loading cycles, 500,000 excavating cycles, 360,000 gear change cycles, in addition to extensive bump track testing, and thousands of hours of endurance testing. Additional EMC (Electromagnetic Compatibility) testing ensures that the machine is not affected by signals from cell phones and radios. Construction materials are tested for tolerance to extreme temperatures, chemicals, salt, oil and light, to withstand the most hostile conditions.
Every new JCB backhoe loader is put through 600 performance checks before rolling off the production line. * - model dependent
 JCB EcoMAX engines require no DPF, for lower maintenance costs.
Highest excavator swing torque in the industry, ideal for replacing railroad ties
Powerful hydraulic system to run power-hungry attachments
On-board diagnostics and fleet management with JCB Automate and LiveLink telematics
2-year/2,000-hour bucket-to-bucket, transferable warranty
Specifications
Gross Engine Power: 74/91/109 hp (55/68/81 kW)
Max. Reach: 26 ft 11 in (8.20 m)
Max. Swing Force: 18,000 lbf (8,165 kgf)
NEED A QUOTE?
Let us help you get moving.