Get A Quote
Furukawa Rock Drill USA HCR1500 ED SERIES II / D20II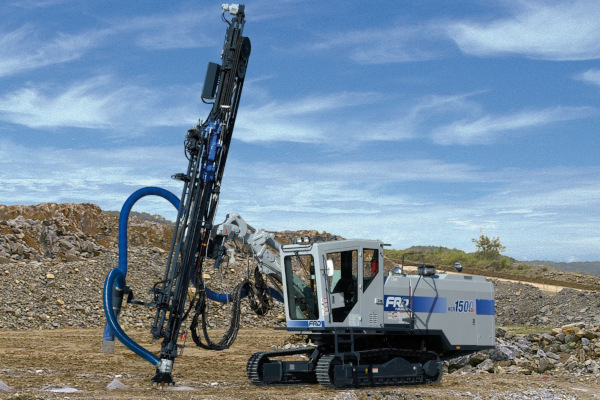 Double tap to zoom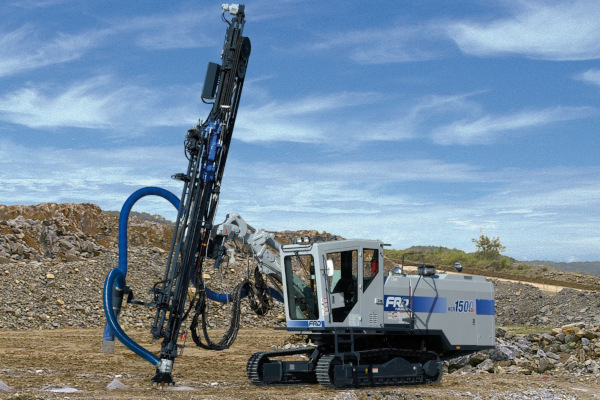 Tier III HCR1500 ED SERIES II / D20II
HCR1500 ED Series II, with extendable boom, incorporates a self-adjusting drill system that ensures high productivity no matter what the drilling situation.

The HCR1500 ED Series II is the perfect drill for quarries or construction sites. The Low-emission Caterpillar® C9 Tier III engines offer low fuel consumption, ... + Read More
Features
Maximize operator performance with the ultimate in ergonomic cab design.
Ergonomically friendly cabs are 51 inches (1,300 mm) with ROPS/FOPS.
All cabs are air-conditioned and continuously pressurized with filtered air to maintain a comfortable operating environment.
AM/FM radio with bluetooth  is standard
Cab is equipped with USB port
Single-lever drilling control for easy operation.
120-degree swiveling seat adjustable for legroom, back angle, height and operator weight provides maximum visibility.
Large windows maximize operator visibility.
High-visibility gauges allow operator to monitor machine functions while remaining focused on the drilling.
Walk-around ground level maintenance provides fast, easy upkeep or repair.
Rubber-mounted engine frame isolates cab from engine vibrations.
Low-emission engines offer low fuel consumption and meets US exhaust emissions regulations.
High-output compressor increases flushing air, provides faster drilling and decreases bit wear.
HCR1500 ED features 12′ rods with extendable boom for increased drill pattern, while the HCR1500 D20 has a fixed boom with 20′ rods for deeper drilling opportunity.
Reliable dust control system increases suction capacity and provides effective pre-cleaner to reduce escape of drilling dust. An optional dust suppression system is available for difficult drilling conditions.
Heavy-duty Furukawa undercarriage featuring a pentagonal section design to reduce dirt build-up and track wear ensures strength and durability.
Advanced rotary rod changer allows easy drill rod changes. Operators can add and remove rods using a single lever. Rods can also be indexed in the rack to distribute wear evenly and reduce costs.
Angle indicator for quick and easy drilling alignment.
Specifications
Model
HCR1500-ED II
 HCR1500-D20 II
WEIGHT & DIMENSIONS
US Standard (Metric)
US Standard (Metric)
Operating Weight with Fuel/Oil
39,286 lb / 40,616 lb
17,820 kg / 18,420 kg
Overall length
32'-10" / 33'-5.5"
10,010 mm / 10,200 mm
Ground contact length
9'-1" / 9'-5"
2,780 mm / 2,865 mm
Overall width with pre-cleaner
12'-2" / 12'-8"
3,720 mm / 3,860 mm
Overall width
7'-10.5"
2,400 mm
Width of shoe
13"
330 mm
Overall height shipping
11' / 11'-2"
3325 mm / 3,400 mm
DRIFTER
Model
HD715 II
Weight
551 lb
250 kg
Impact rate
2,250 - 2,500 bmp
Number of rotations
0 - 150 rpm
UNDERCARRIAGE
Ground clearance
20.4" / 19.2"
515 mm / 495 mm
Oscillating angle
±7.5° deg
Travel speed
0 - 2.6 mph
0 - 4.2 km/h
Max grade of hill climb
57.7 (30°) %
ENGINE
Make/model
CATERPILLAR® / C9
Type
Turbocharged and air to air after cooled diesel, direct fuel injection, electronic governor.
Rated output
348hp / 2,200rpm
260kw / 2,200rpm
 
Meets Tier III and EU stage-3

Low-emission, low fuel consumption Tier III Caterpillar® engine meets major exhaust emissions regulations in US and Europe.

Net usable output available at flywheel of the installed engine with all the standard accessories. SAEJ1349, SAEJ1995 conditions.
Piston displacement
2.3 gal
8.8 liter
Fuel tank capacity
166 gal
630 liter
HYDRAULIC PUMP
Type
2-variable displacement axial piston pumps; largest for travel, impact and feed, smaller for drifter rotation. 3-gear pumps for cooling and dust collector, boom and rod changer.
Hydraulic oil tank capacity
63 gal
240 liter
The contents of these specifications are subject to change without notice.
Got A Question?
Let us help you get moving.
NEED A QUOTE?
Let us help you get moving.