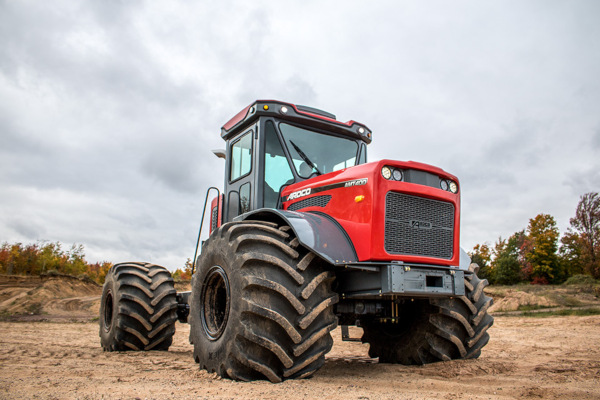 Double tap to zoom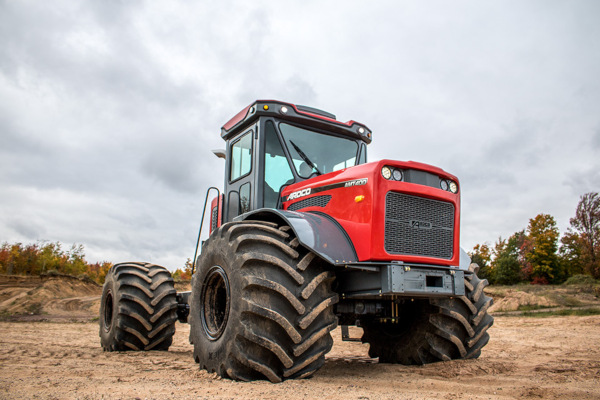 Features
Engine
The AMT 400 is powered by a Cummins QSB6.7 Tier 4 diesel engine rated at 200-horsepower at 2,200 RPM.
Universal Attachment System
The AMT features a convenient, easy-to-use universal attachment system that is designed to accept a wide array of equipment on an open rear chassis.
Work Environment Customization
The AMT can be customized for optimal performance in its intended climate and environment, with special modifications for construction, arctic, desert, swamp, forest, railroad and mountain use.
Rugged Design
Built with a heavy-duty tubular steel frame, the AMT is designed to traverse difficult off-road terrain.
Payload
The AMT 400 delivers a high payload capacity of up to 28,000 pounds depending on attachment and application, providing impressive performance when hauling fuel, water, dirt, supplies, personnel and more.
Drive
The AMT 400 is a 4-wheel-drive vehicle with front axle disconnect for 2-wheel drive mode.
Transmission and Axles
An efficient Dana 6-speed powershift transmission includes a twist grip shifter. Durable Spicer/Dana planetary axles feature automatic limited slip differentials for the front and rear.
High-Strength Trunnion
The high-strength trunnion design is engineered for smooth articulation in practically any working environment.
Wheel Wells
Wheel wheels block mud and sand from accumulating around the operator platform.
Tow Eyes & Hitch
The AMT includes tow eyes at the front of the vehicle and a pintle hitch on the rear.
Steel-Reinforced Hood
Steel-reinforced hood and roof protects operators, and the machine itself, to help safely reach their destination.
Quiet 2-Person Cab
An ergonomically enhanced 2-person ROPS cab features easy-to-reach operational controls and a streamlined design for clear visibility. Fully enclosed with a 68 dB sound rating, the all-weather cab includes heating and air conditioning, Bluetooth/AM-FM audio system, front and rear wipers with washers, and interior lights.
Steering Column with Display
Steering column includes a 7-inch monitor featuring a digital gauge cluster with onboard diagnostics, digital maintenance log, and digital manual access. It also includes an integrated display for the optional backup camera.
Visibility
A streamlined front end angle offers panoramic visibility, enhancing safety when transporting personnel or supplies to off-road locations.
Lighting
The AMT includes front LED lights with high and low beams, LED brake lights, and LED directionals. The exterior of the cab is also equipped with front and rear LED work lights, and flashing amber beacon lights.
Electrical System
Updated electrical system allows for fast and easy servicing when time is of the essence.
Fuel Tank
60-gallon (227 L) fuel tank capacity allows for longer operating intervals.
Specifications
Dimensions
 
Height
11' 4" (345 cm)
Length
24' 6" (747 cm)
Width
8' 6" (259 cm)
Ground Clearance
24" (610 mm)
Approximate Operating Weight
22,600 lbs (10,251 kg) empty
50,600 lbs (22,952 kg) loaded
Engine
 
Tier 4 Final / Stage 4
Cummins QSB6.7 diesel engine rated at 200 BHP (149 kW) @ 2,200 RPM
Tier 3 (available in limited regions)
Cummins QSB6.7 diesel engine rated at 190 BHP (142 kW) @ 2,200 RPM
Fuel Tank
60 gal. (227 L)
Performance
 
Payload
28,000 lbs (12,701 kg) maximum, depending on attachment, application and tires
Speed
0-25 mph (40 kph)
Drive
4-wheel drive with front axle disconnect for 2-wheel drive mode
Transmission
Dana powershift transmission with twist grip shifter; 3 speed forward, 3 reverse with high and low range
Axles
Spicer/Dana rigid planetary axles with automatic limited slip differentials, front and rear
Steering
Hydraulic articulation steering by double hydraulic cylinders with +/- 37° articulation
Trunnion
Extra-heavy-duty center pivot trunnion with approximately 20° oscillation between front and rear frame
Service Brakes
Pressure-applied hydraulic
Parking Brake
Internal spring-applied hydraulic release disc
Standard Tires
23.1x26 tractor tires
Electrical
 
System
12-volt
Batteries
Dual batteries with 800CCA each (1,600 CCA total)
NEED A QUOTE?
Let us help you get moving.